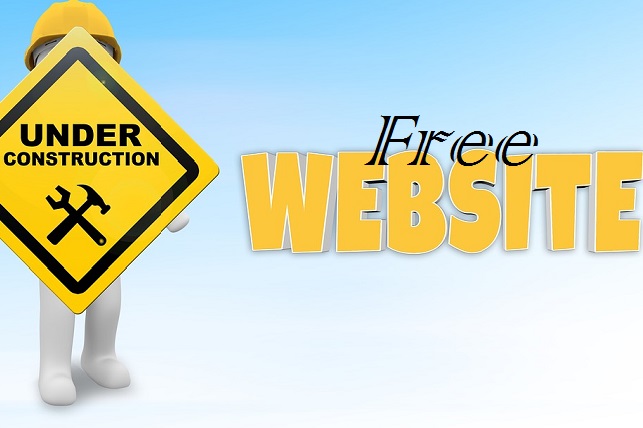 Make Money Online
Step By Step Guide On How To Create A Free WordPress Website
May be you're just starting your freelance career. Or else, you've been on this industry for long. However, it has been hard for you to launch a website to showcase your skills and portfolio online. Saving the cash for hosting and the domain name has been a challenge. Well, what you need to know is that you can create a free WordPress website?
Really?
Yes, you can own a website without paying any hosting fee. But is it necessary? You ask.
You see, as a freelancer, having a website opens a gate to your success. It helps to implement the rule of, "Do not tell; show!" What that means is that, you will not just tell clients you know how to write top-notch articles, but you will also be able to show case your top-notch content by sharing a link to your website.
That is why you need to create a free WordPress website, if you do not have one already or if you do not have a self-hosted one.
This guide will help you do just that!
Wants to Create free a WordPress website: Get to know this..
You need to have a subdomain of WordPress. What that means is that your blog site address will have a wordpress.com as part of its extension instead of .com or .ke. For instance, "petcorner.wordpress.com" in place of "petcorner.com."
You will have less customization and control on what you can do on your website.
WordPress will feature Ads on your site, but you will not receive any compensation.
You cannot upload new plugins or monetize your blog. It is unfortunate! 🙁
It is possible for you to import content from a blogger or other CMS.
You have an opportunity to move your content to WordPress.org website without losing your current traffic.
With this information in your mind, let's now dive in.
Create a Free WordPress Website Account on WordPress.com (DIY)!
The first step on how to create a free WordPress website is signing up on WordPress.com. To do this, you need to visit http://wordpress.com, then click the "Get started" icon.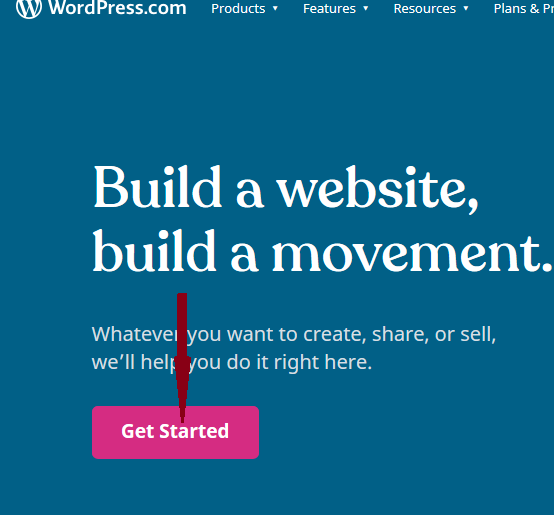 Next, wait for redirection to the signup page. Once there, fill the signup form with relevant details.  These details include the email address you wish to use as well as the password. Rule of thumb, save the details somewhere just incase your memory erases them.
When done, click the "create your account" icon.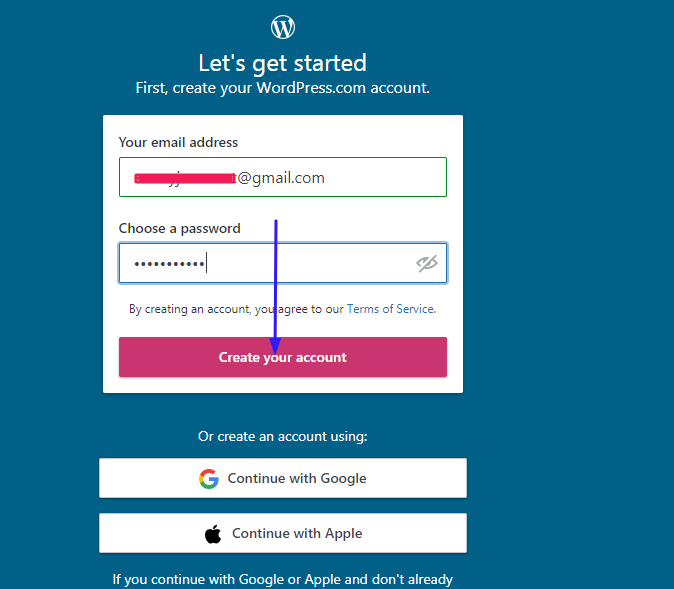 If you wish, you can aslo create using a Gmail account. With that, click on, "continue with Google" button.
I would, however, go for the former option instead of the later.
Enter the Domain Name of the Free website You Want To Create
When you click the create account button, a new page will pop-up asking you to enter the domain name of the site you wish to create.
I need to say something here, many trainees get confused when they get at this point. The fact that there are options asking you to pay for the domain doesn't mean you have to pick that option. Right?
So, once you enter the domain name you wish to use, look around for the "Free" option.
Hint: Let the domain name hint to your readers, followers, and potential buyers what your site is all about. Here's what I am saying. If the site deals with, for example, healthmatters, it would not make sense to have "marypeterwriter" domain name. This domain name is good if you wnat to market yourself as a writer and probably, share tactics of becoming a top-notch writer.
A domain name like, "yourhealthmatters" is good for a health niche site. So, get things right when selecting the domain name.
Then, click on "Select".
Well, what pops up next is another screenshot asking you the hosting plan you wish to choose. Or if you want the free option. We are sure we need the free one. Therefore, not unless you want to start a self-hosted site, click on the "start with a free site" option.

Before we work on anything else, let's choose a theme for our site. You can use any theme, buy I suggest you use the Twenty Twenty Theme.
Let's head to "themes" option.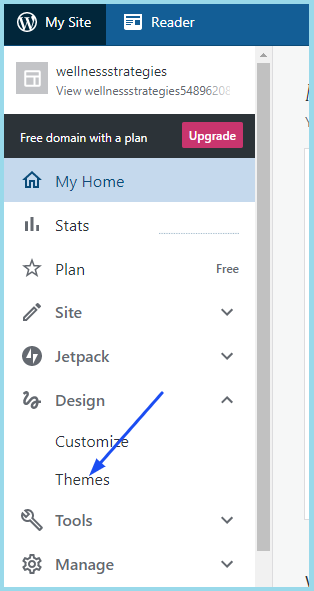 Search for the twenty twenty Theme and click on it. You will be asked to "Activate" it. Go ahead and do that.
We are now good to get started. And? here's where the real task is when you want to create free a WordPress website.
Click on "get started" option so as to create the pages we need and add all the other necessary information.

Name Your Site, Add logo, Site Title and Tag line
The next step is naming your site. Therefore, click on "Name your site" option and give it a name.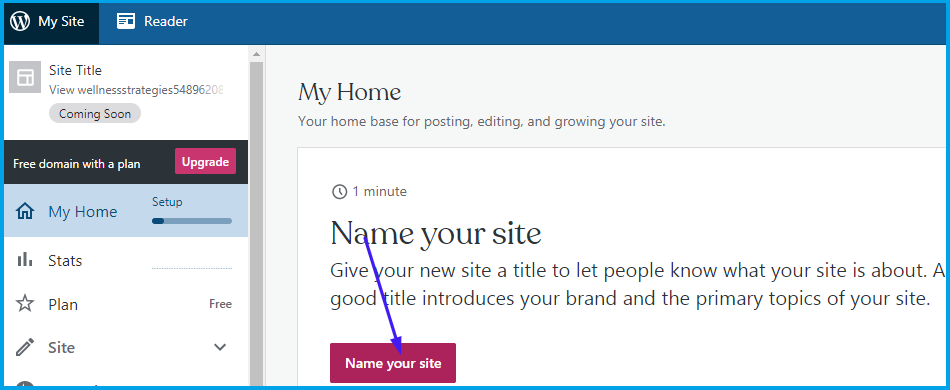 In the next dialogoe box, you will add the site title, site logo, site tagline and every other details as I will guide you below.
For site title, we will retain what we already had, "Wellnessstrategies". The tag line, is the word or phrase that people can use to tag the site.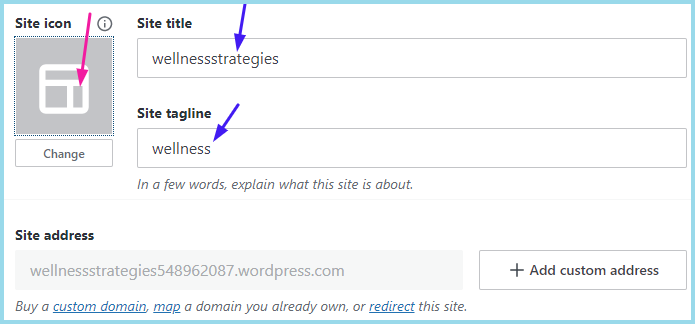 Logo is the symbol used to identify your site. Must be unique so as to avoid being acccused of plagiarism. So, come up with something unique.
It is not a must you add a logo though. But we need to do everything professionally, right? So, just come up with something simple and add it there.
Remember, a logo ought to be small in size so that it can fit in the area provided.
One thing though, once you click the logo option, you will be asked to confirm if you reallly want to leave that page because if you do, the changes you had made will not be saved. No trouble, just proceed with the logo. We can always come back to this page later once we are done with the logo.
Thus, this is where you will be redirected to.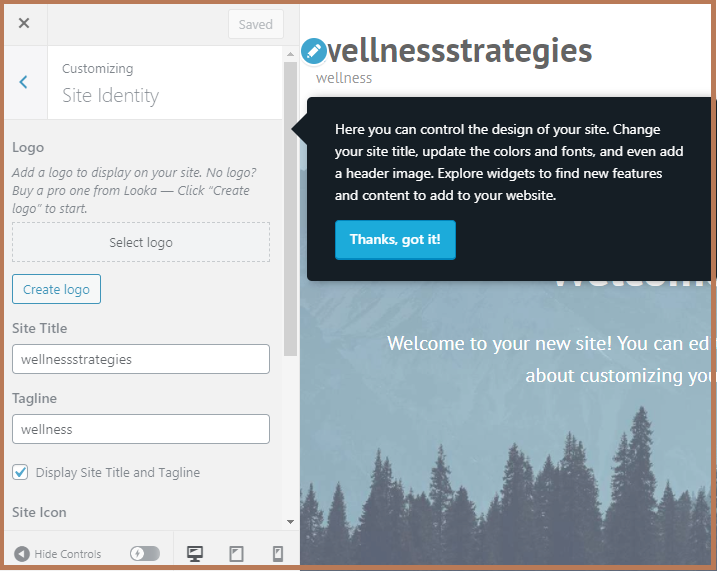 I believe you have already created a logo. If you haven't, do that now.  Once you are done, save it. Now that we already have the logo, we will not click on "create logo"option, we shall click on "Select logo" option.
I have added the logo. This is what you should see if you have added it.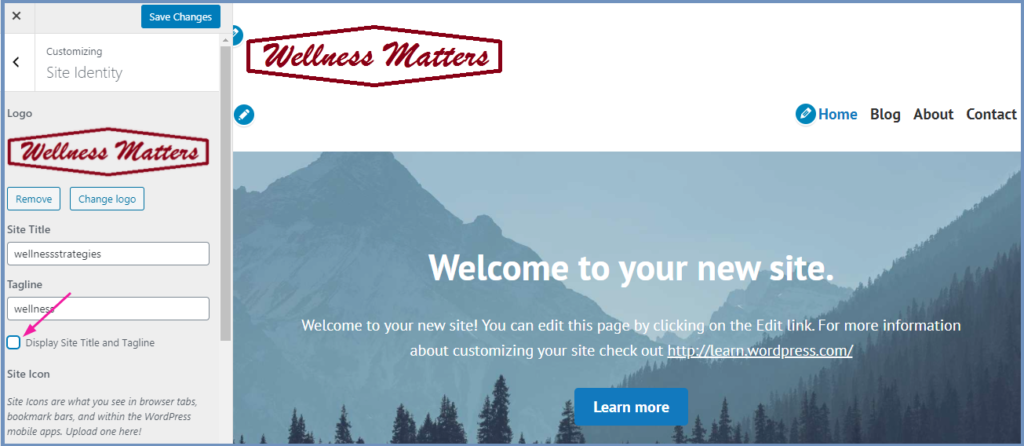 I would recommend you don't check the "Display Site Title and Tagline" box. Since it is automaticlaly checked, uncheck it.
Then save the changes. The saving option is above the logo not below. 🙂 Done?
Click on the "X" to close that pop-up you are seeing.
You will be redirected to the "Update your Homepage" page. Click on "Edit Homepage" option.
Again, you will be redirected  to another page and you will see a "Welcome to your website" pop-up. Click on "Next". Another pop-up "Add or edit Your Content" will appear.
Again, click 'Next".
Still, another pop-up, "Preview your site as you go". Click, "Get started".
This is what you should see..
Once you scroll down, you will see around three 'Example Posts'. Every time you create free a WordPress website, you will see these samples. We will delete them and add our own content.

You can chose to delete them first or later.
For us, we will work on that later.
Add Pages 
So, right now, let's head to the "Block Editor SideBar"; icon shown below.

On clicking that icon, a drop down will appear, click on "All Pages" so that we add the pages we wish. You can have various pages, such as Home Page, About Us page, Blog page, and Contact Page. You may have more pages if you wish according to what you wish to have there.
In our case, we will only add "Blog", "About Us", Contact Us" and "Home" Pages. Therefore, click on "All Pages"
You should be able to see all the four pages.
a. About Us page
We will start with "About Us" page.

I believe you already have content for this. I suggest you have around 300 words. Tell the world about yourself. Why you started the site. What they should expect from you. Why they should follow you and the like.
Click on "About" option so as to add the content.
You will find content there. Delete it and add yours. Also, there willbe an option for adding your profile photo. I suggest you get one that makes you look like a professional. Don't have some "busy" back ground. You know what is a busy background? 😀
A background with buildings, vehicles, trees, children playing, and the like!
Have a plain background like what we have in the sample profile photo (in the screenshot below). Nonetheless, don't add a black and white photo. Let it be a colored profile photo. A smile won't do you any harm. In contrast, it will   make your readers feel "at home"!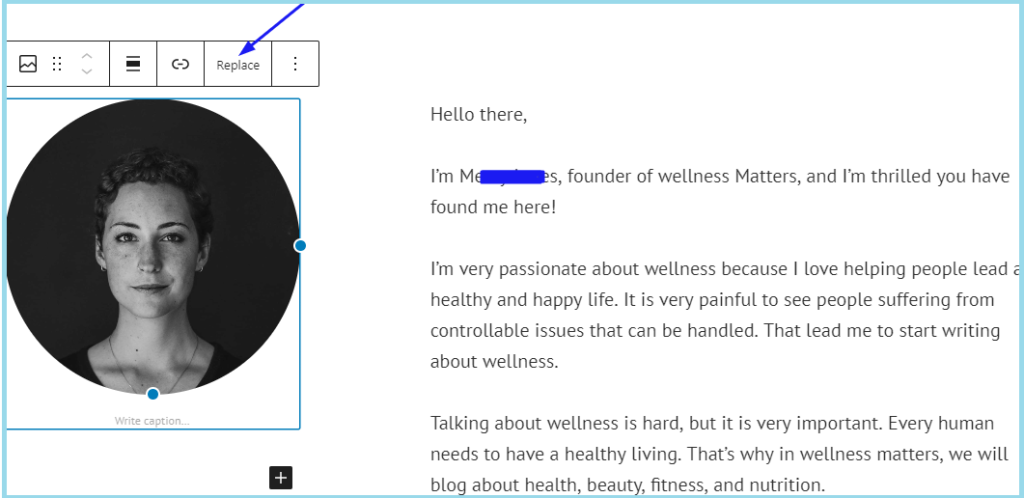 CLick on "Replace" option to change the profile photo. Once all is in order, save the changes.
Done adding the photo and content? Click on "Update".
b. Contact Us Page
Head back to block editer sidebar and click on "Blog" option. It is time to work on the contact us page; click on that option.
You will be notified, change you made might not be lost. Fret not, there are no unsaved changes (if you updated the previous changes). Don't worry, therefore, proceed.
On the contact us page, don't have too much content. Something brief like:
"Is there any way we could help you?
No trouble, just get in touch using the form below. Alternatively, you could use our social media handle.
What are you waiting for? Somebody is waiting to help you!"
Disclaimer:
Don't copy exactly what I have here. What happens if everyone uses exactly what I have here? That is plagiarism and Google will soon be on your neck! Don't go that route.
Next, add an image with some social media icons.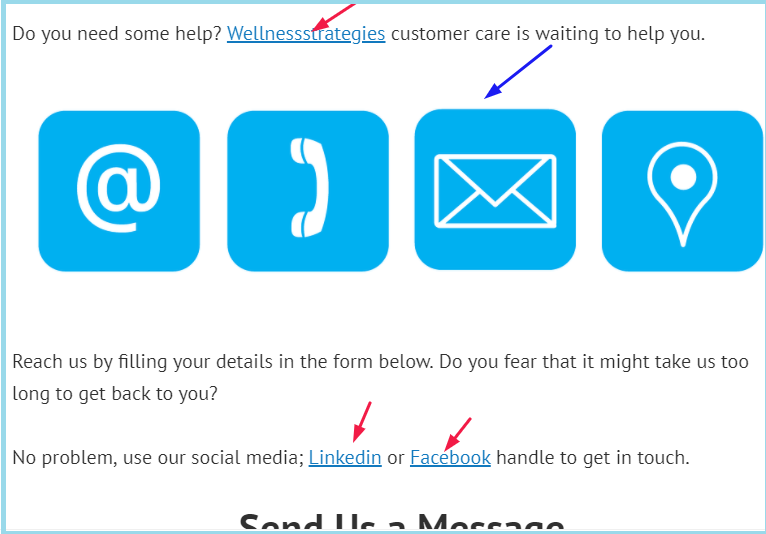 As you can see, I have added the image, and links to my social media accounts. Plus, the link to my free site (homepage), wellnessstrategies.
You  may now click on "Update" so as to save the changes. Headon to the "Home page" add replace the image just like we have done on the "blog" page.
As per as our site is concerned, we are done with updating our pages. If, however, you want to add more pages, click on the "Add new page" option.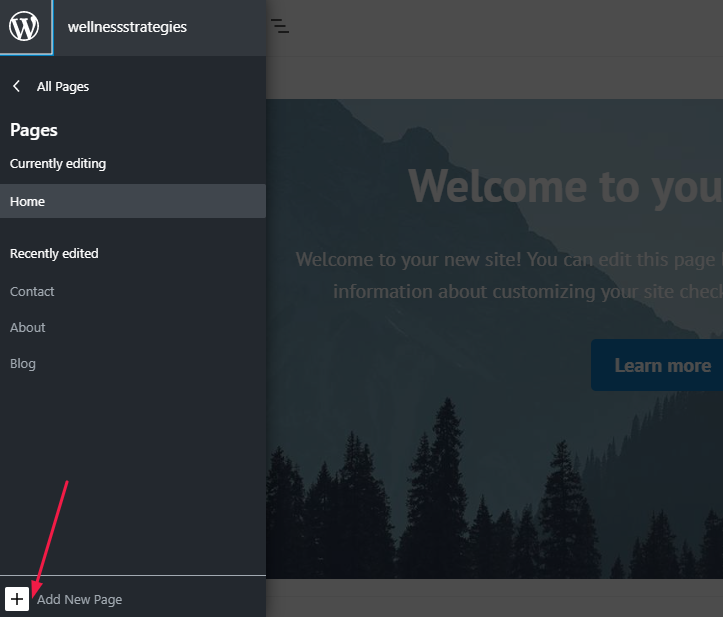 If you do not intend to add another page, head on to "Blog" option.
Before we delete the "Example Posts" let's place the image we have there.
I recommend you have an image that relates with what you will be blogging about.
For instance, if you are a diet blogger, look for a balanced diet image.
Click the "replace" option to add a new image. Have a catchy, large image so that it can fit well. I would also suggest you add content on that home page. Just like the "About Us" page, have about 300 words.
Here, you could talk about your niche/products you will be offering on the site. Also, encourage your visitors to explore your site further for more information.
When all is done and said, click on Update changes.
Congratulations. Start publishing the content. How do I go about this? You ask!
Let me guide you, but before then…
Confirm Your Email Address
For you to post on your free WordPress site, you must verify your website by confirming your email address. This action confirms that you're a human being and not a robot. So, head on to your inbox – of the email you used to sign up – and click the link to successfully activate your blog.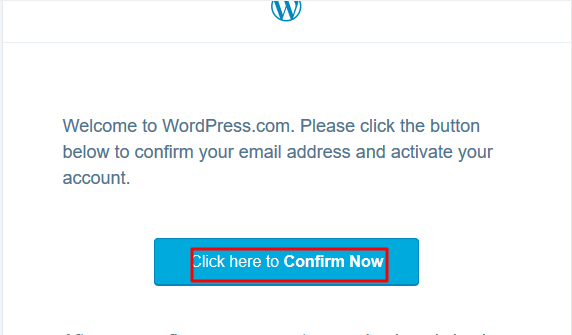 Now click on the block editer sidebar once more. Click on "All pages". Proceed and click on "My Site" option.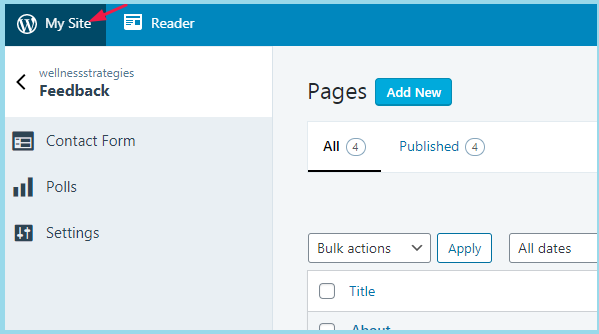 Launch The Site
Before we proceed, we need to do something, Launch the site! The world doesn't know we have a site yet. Shouldn't we let them know we have one? We should.
Therefore, click on "Coming soon" option.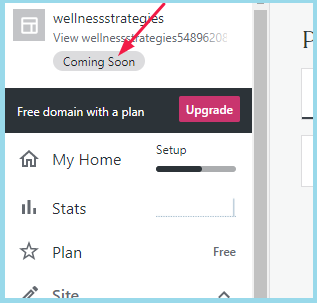 On the page that pops-up, click on Lauch Site. You will be requested to enter the address you wish to use. We don't need that now. So, click on "Skip purchase" option.
On the new page that pops-up, click "continue to my free site". The site is launched.
Publish Your First Post
On the drop down that appears, click on "site" then "posts".
When you create a free a WordPress blog, what you will see here is the 'Example Posts". Delete each of them.

I believe, this far, you are not lost. Now, click on the "Add Post" option so as to start publishing.
How do I do this? You ask. It is easy.
Copy your content from Ms Word and paste it here. As a professional writer, I believe you have done proofreading, corrected all grammatical errors, and eliminated any plagiarism.
Now format the content the same way you published on ThriveGlobal (if you are my trainee). Rememeber to add links, images as well as the featured image on every post you want to publish.
That is it! It was a long journey but we are done.
You now have your free website. Don't you?
Once you are stable and sure of the niche you want to stick to, create a self-hosted site! Remember the main purpose of creating this site is to ensure that your readers see your proficiency and hire you, right?
With that aim; you need to ensure that after creating an awesome article; you do optimum customization.
Also, ensure that you add links with high domain authority as well as high quality images.
How?
Here's a step-by-step Guide on how to publish as well as optimize your post(s) so that it looks professional.
Even so, don't be deceived, a free-webite cannot give you some clients. A self-hosted will!! Therefore, when you are financially able, go for a self-hosted site.
Wrapping Up
As you can see, it is easy to create a free WordPress website. With this guide, you can do it all by yourself. On the other hand, you can see that there is no coding or extra skills needed to create your free blog.
You, therefore, have no reasons for not owning a free WordPress blog.
Apart from this, your free WordPress site is a stepping stone to owning a self-hosted website. When your budget allows you to cater for hosting cost, you can comfortably host the site.
The good thing is that you will not lose your traffic or following. Hence, you won't build your site from scratch again.
Would you like any assistance in creating a free or self hosted blog? Feel free to contact me so that we discuss further.