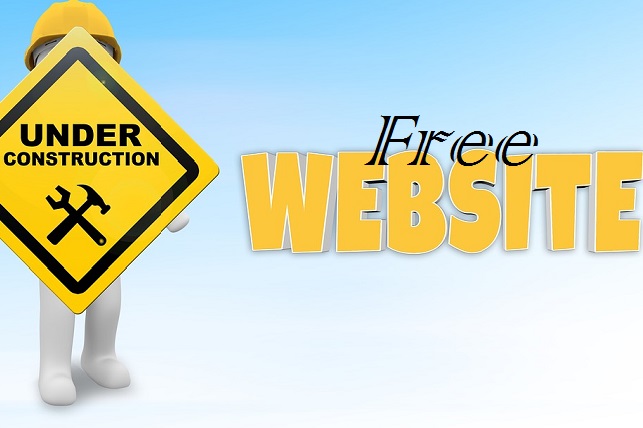 Make Money Online
Step By Step Guide On How To Create A Free WordPress Website
May be you're just starting your freelance career. Or else, you've been on this industry for long. However, it has been hard for you to launch a website to showcase your skills and portfolio online. Saving the cash for hosting and the domain name has been a challenge. Well, what you need to know is that you can create a free WordPress website?
Really?
Yes, you can own a website without paying any hosting fee. But is it necessary? You ask.
You see, as a freelancer, having a website opens a gate to your success. It helps to implement the rule of, "Do not tell; show!" What that means is that, you will not just tell clients you know how to write top-notch articles, but you will also be able to show case your top-notch content by sharing a link to your website.
That is why you need to create a free WordPress website, if you do not have one already or if you do not have a self-hosted one.
This guide will help you do just that!
Nonetheless, before we get started, there are several things you need to know:
You need to have a subdomain of WordPress. What that means is that your blog site address will have a wordpress.com as part of its extension instead of .com or .ke. For instance, "petcorner.wordpress.com" in place of "petcorner.com."
You will have less customization and control on what you can do on your website.
WordPress will feature Ads on your site, but you will not receive any compensation.
You cannot upload new plugins or monetize your blog.
It is possible for you to import content from a blogger or other CMS.
You have an opportunity to move your content to WordPress.org website without losing your current traffic.
With this information in your mind, let's now dive in.
Creating a Free WordPress Website Account on WordPress.com
The first step on how to create a free WordPress website is signing up on WordPress.com. To do this, you need to visit http://wordpress.com, then click the "Get started" icon.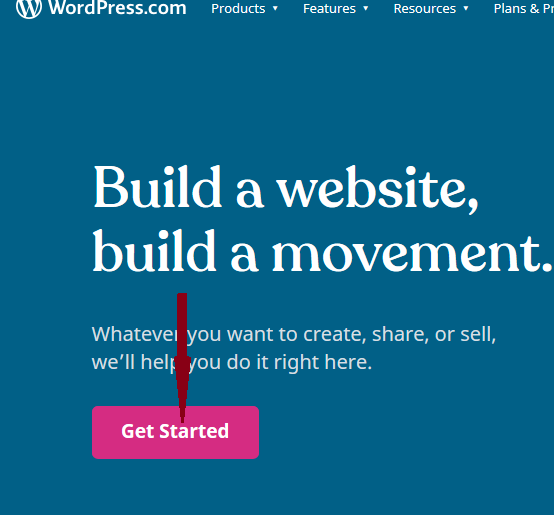 Next, wait for redirection to the signup page. Once you're on the signup page, fill the signup form with relevant details.  These details include your email address, password, and username.
When done, click the "create an account"icon.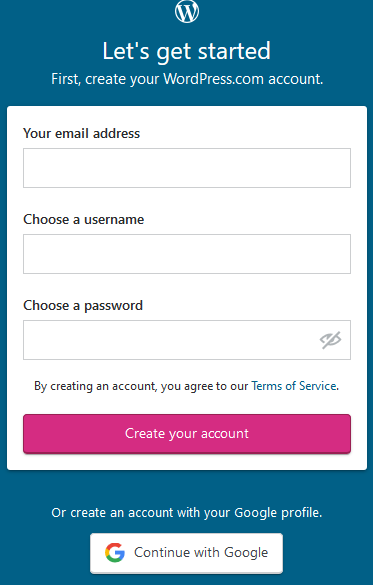 If you're using a Gmail account, you can click the "continue with Google" button.
Select The Type of website You Want To Create
When you click the create account button, a new page will pop-up asking you the type of website you want to create.

Here, enter the name you want to give your site. For instance, it can be marypeterwriter or any other.
So, here we go..
Now, just so you know, there are four options you can go with when creating a free website:
First, you can create a free WordPress website blog to share updates, content, or discussions with your followers. This is a good option if you want to share your creativity with your audience.
The next option is creating a business website. If you're an entrepreneur, this option is a good idea. The option allows you to create a free WordPress website for promoting your products and services.
The third category is for creating a professional site for showcasing your portfolio and work. A portfolio is like a virtual Curriculum vitae (CV) showcasing your professionalism and experience. Hence, if you do not have one, you can utilize this opportunity.
Lastly, you can use this platform to create a free WordPress website to launch an online store. As a budding webpreneur, an online presence is crucial. So, if you cannot pay for hosting fee and other charges, you can use this free WordPress website to try your legs on the online market.
Depending on your website purpose, you can choose the option that fits you best. However, what we need now is a free WordPress website blog, right?
So, n the next dialogue box that appears, click on "start with a free site".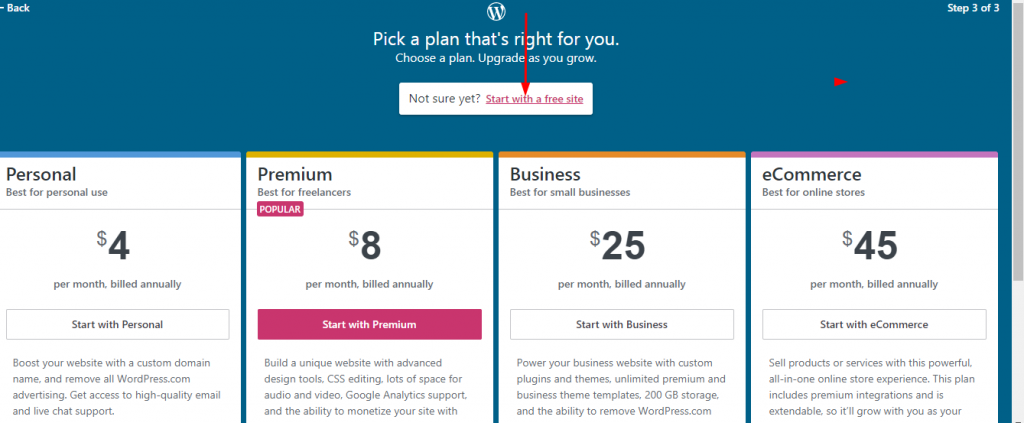 Choose Your Blog Niche and Name
Before starting to create a free WordPress website, it is essential to determine your niche.  What kind of information do you want to share in your blog? Is it about photography, marketing, pets, travel, health, or sports? Whichever it is, you need to determine your blog content. However, it would be wise to go by the most profitable niches. You may have to read more on the most profitable niche to determine the best one for you instead of just picking any niche.
Moving on…
We start by having the name of the site.
I have decided to have mine as marypeterwriter. I have also made it easier for people looking for my site to find it by adding tags such as writer, blogger and the like.
Do the same.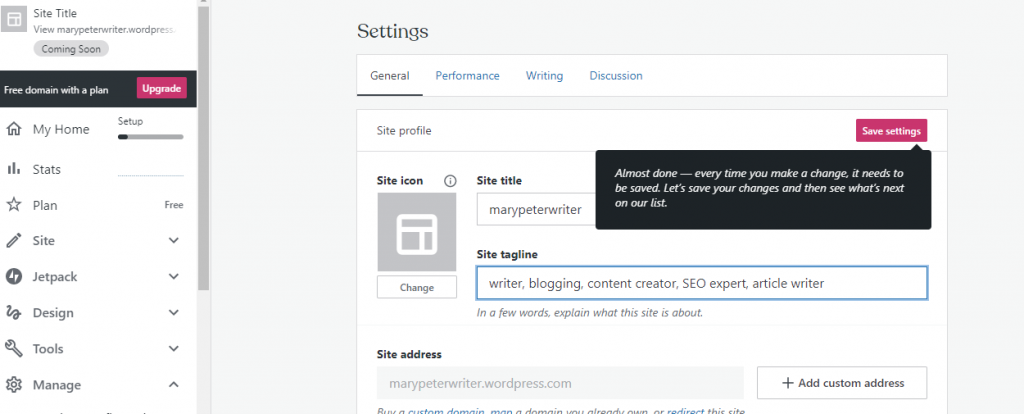 Meanwhile, you can allow every other thing to remain as it is. For example, we have the language and time zone. Let them be as they are. I don't even think there is need to change them in the future.
As for the visiblity, I suggest you allow it to remain "coming soon" since we are yet to publish some content. Once you are done with the site, you can launch it so that it goes live. So, for now, we are done with this, so just save the changes and "return to my homepage".
It is now time to update the homepage. Do so by clicking on the "Edit my homepage" option.
Give Your Blog An Address
Your blog has a name already. That's good. But you can't create a free WordPress website blog without an address. You see, to make it possible for your name to appear in the search results whenever people search for you online is by having an address.  So, add an address.
How do you do this?
Use your blog name or a keyword for your niche. When you type the words on the search bar, suggestions of the possible domain names will pop-up.
Each option has a certain price. However, you want to create a free WordPress website. So, select the free option.
Upon choosing your domain type, a new page will show up with the available plans. You don't need it since you are not paying. So, click "start with a free site."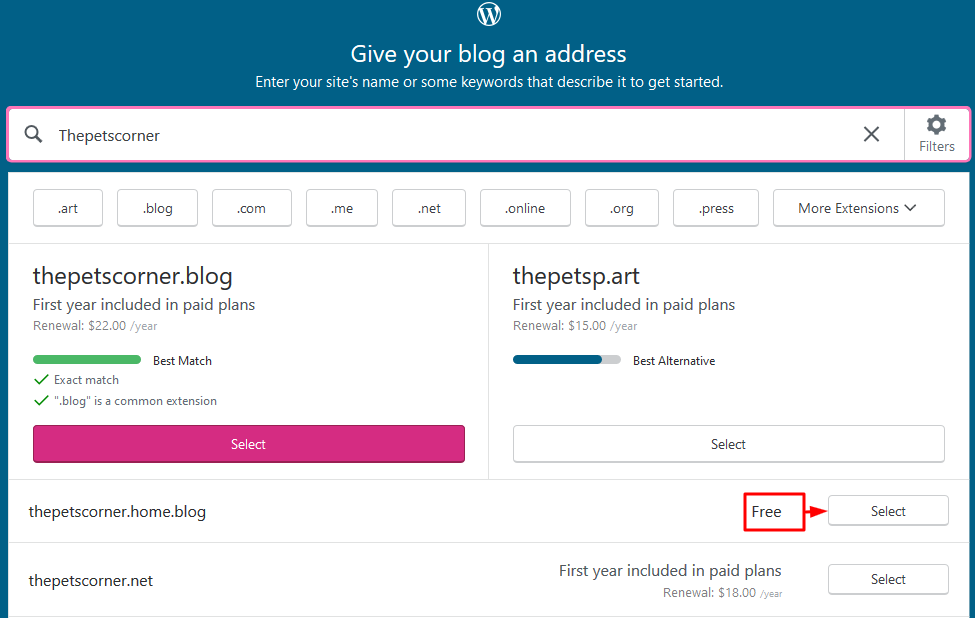 Congrats! Now you have a free WordPress website!
But wait…
You're yet to the final stage. To create a free WordPress website that is attractive, there is more work you need to do.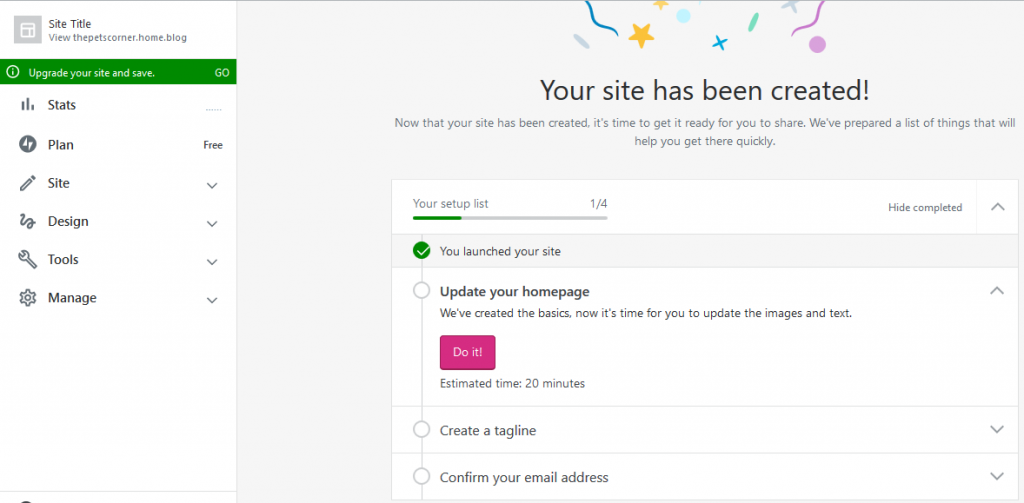 As you can see on the page, you have 3 more tasks to complete.
These are:
Updating the homepage
Creating a tagline and,
Confirming your email address
Confirm Your Email Address
For you to post on your free WordPress site, you must verify your website by confirming your email address. This action confirms that you're a human being and not a robot. So, head on to your inbox – of the email you used to sign up – and click the link to successfully activate your blog.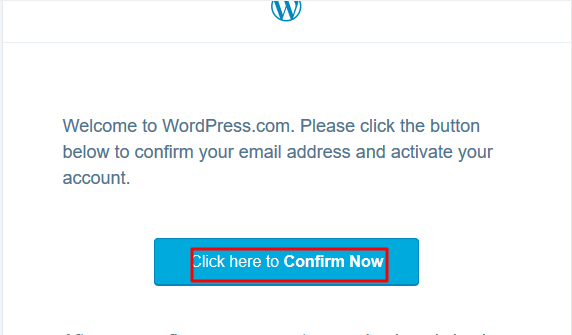 Updating Your Homepage
Your website is up and running. However, you need to customize your homepage. Several things need to be updated on the homepage. First, you can change the image and icon to match your niche.
Remember, an image carries a thousand words in it. With an image, therefore, your audience will get a clue of your niche immediately they land on the homepage. So, get an image from your PC (if you have any), from pixabay.com, unsplash.com, or any other site where you can get free images.
Also, you can change the font size of your homepage text from H1 to H6. H1 is the largest, while H6 is the smallest in size. Still, you can change the color of the font.
Once you're comfortable with everything, click the "update" button on the top right corner to save the changes. Otherwise, you will lose all of the changes.
Apart from this, you can set the number of posts to appear on the home page.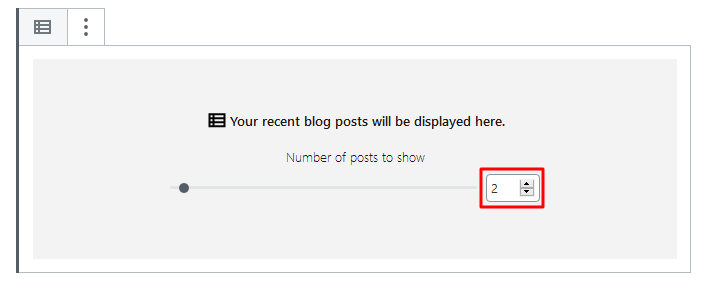 Add A Tagline
A tagline is like the slogan of your website. It is a promise to your audience on what they should expect from you.  The tagline appears under your blog title.
For example, you could have something like, "The pets we treasure."
However, if you do not have any idea on what to write, you can leave it for now – you can do this later during customization.
Adding Pages on Your Free WordPress Website
After completing the above basic tasks; you need to move to the next step which is adding pages on your site. As you can see, currently your website has only one page – the front page or homepage. That, therefore, means that you need to add other pages such as "About Me page," "Contacts Page," Testimonials Page," and any other page(s) according to your preferences.
On the other hand, adding these pages, makes you to have a free WordPress website that has a professional look.
How do you do this? It's simple.
On the menu which appears on your left, there's  the "site" option.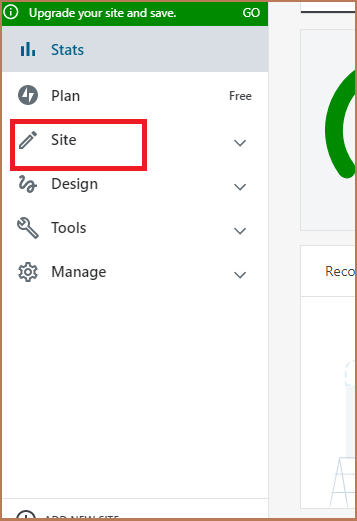 When you click on it, you will see  the "pages" option. Click on it so that you can be directed to the "Page Option,"  which when you click, you will see the "Add New Page" option on your right-hand side.

Click on it.
A new page will appear. You need to update it by giving it a title. Of course, the title should be, "About."
Here, too, you can add an image. Since this is an "About Me Page", you can add your image. Alternatively, you can still get free images from the sites we have mentioned previously then upload.
Now, in this "About Me Page", you need to inform your site's visitors what you do, the purpose of the site, and what they should expect to find on the site. You may also tell them what motivated you to start the blog.
In case you have no idea of what you should have in this section, it is worth looking at several blogs "About me" page to get an idea of what you should have. You may also have a look at mine.
Use at least 300 words when writing your "About" details.
This page is crucial, especially when you want to create a free WordPress website for freelancing purposes.
Again, since you are creating the blog to show-case your work to the world; you need to allow the public to see the page by selecting on the "public" option on the visibility section.
Also, if you do not want to publish the "About Me Page" immediately you are through writing the content, you can set a later date when it will be published.
It is needful to note that, the date and time you set, the post will just go live regardless of whether you are online or offline.
However, if you do not want to set later dates, you can just click the "publish" option and your free WordPress website "About Me Page" will go live instantly.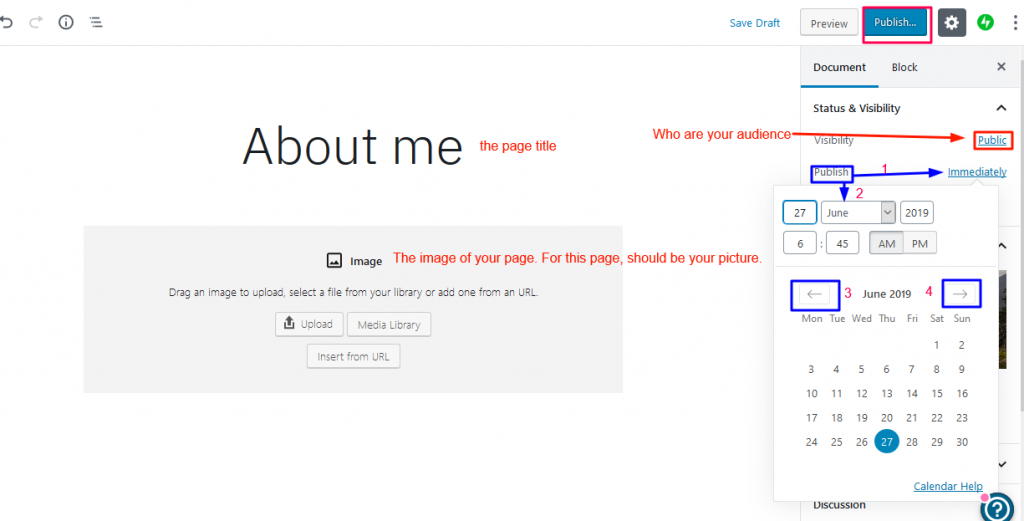 Once you are through with the "About Me Page" it would be good to create the "Contact Me" page. Why? In case a visitor loves your content and they want to hire you, how would they get in touch with you?
It would not be possible. So, make it possible by creating a contact page, just the same way you have created your "About" page.
On that page, you can give your email address, mobile, Skype ID, and the like.
For instant, in my case below, I have added links that will direct the client to my Facebook, Twitter, or LinkedIn account. That means, once the client clicks on any link depending on the mode they want to use to contact me, they will easily get in touch.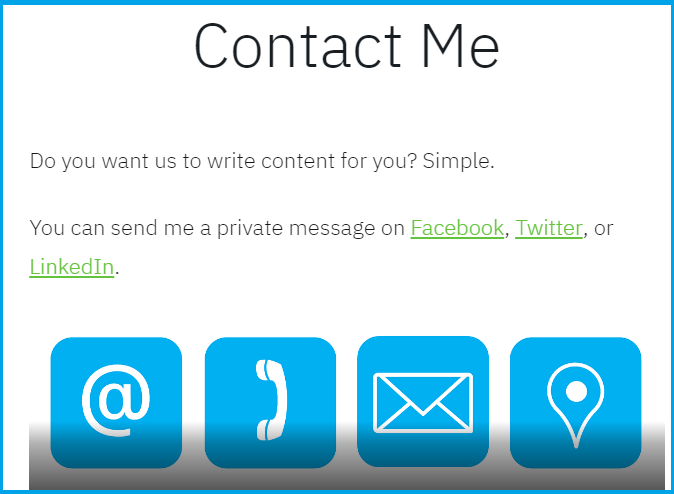 That makes it easy for them to get in touch with me.
So, go ahead and do the same.
Once you are done, click on preview to see what the public will see once you click on the "Publish" button.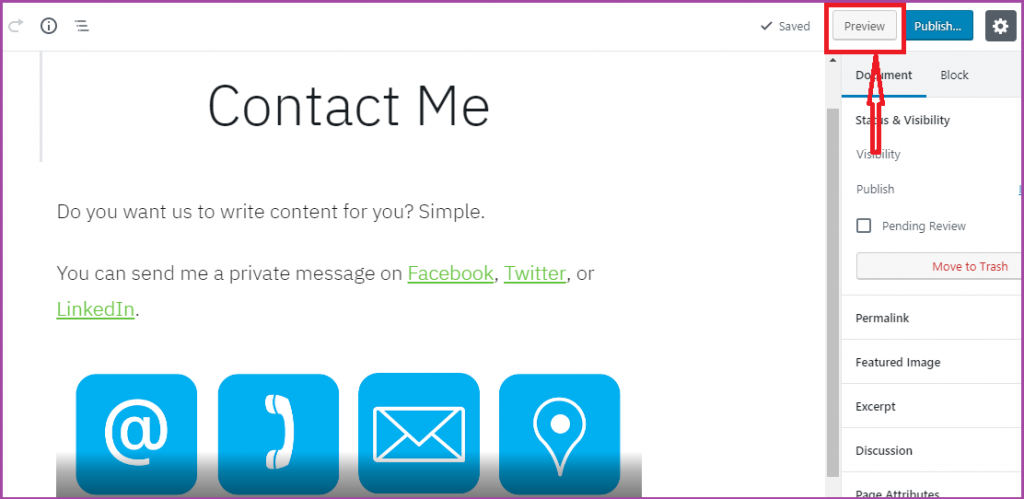 Once you preview and see that the page is good, click on the next button which is "Publish" so that the page can go live.
A pop-up stating, "Contact Me Page is now Live" will pop up to confirm that your page is now public.
Now, before we get started on publishing the content, you need to customize your website so that it looks great.
Designing Your Website
In addition to adding pages and posts, create a free WordPress website that stands out, you need to design its appearance. All you will need to do is to click the Design tab on the menu.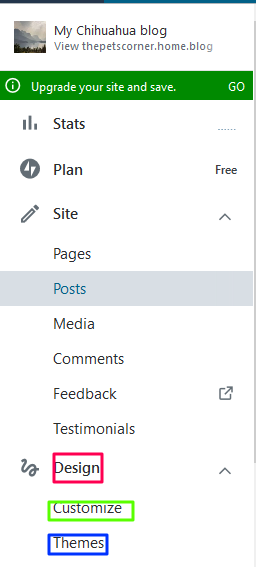 Under this tab, you will get two options:
Briefly, let's discuss them:
Customize
This tab allows you to customize various aspects of your website. So, let's click on it and see the customization options.
First, when you create a free WordPress website, you can customize its identity. This aspect includes uploading your site logo and icon. Your site icon is the image that appears on the browser together with your page title.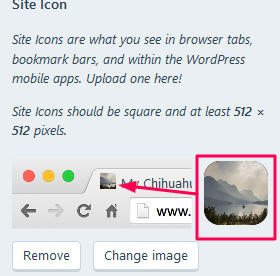 Also, you can add the site title and tagline.
Secondly, you can customize your website text color, menu, and appearance of your content on the homepage. Again, you can add widgets. Widgets are elements you want to appear on the footer of your website.
Upon completing the customizing process, you should click the publish button to save them.
Themes
The next thing you need to choose is a theme for your website. When you create a free WordPress website, you get a predetermined theme after choosing your niche. However, the theme may not fit your topic. So, you may need to change it.
If you want to change your theme, you need to click on the theme icon. A page will appear with both free and premium themes. You can go for the free themes or premium ones if you have the cash to spend on them.
Nonetheless, remember to choose a theme that matches with your blog objective.
Well, you now have a professional a free WordPress website!
However, you definitely want your friends as well as your  social media followers to see each post you load on your site? Or else, your website followers to share the content on their social pages if in case they love it, right?
You, therefore, need to connect your blog with your social media accounts.
Here's how to go about it.
Connect The Website With Your Social Accounts
First, what you need to do is connecting your free WordPress site with your social media account. To do this, go to the menu and click the "tools" icon. Under it, click "Marketing."  A page will show up on the right side. On it; click on the "connections" tab.
Here, you can connect the site with your Facebook, Twitter, LinkedIn, and several other social media platforms. This way, the website will share each new post on the connected social pages automatically.
Adding The Sharing Button
Once you connect your social media accounts to your blog; it is now time to make it possible for your readers to share your content with their friends whenever they want to do so.
How do you do that?
Go to the "Marketing" icon under "Tools."  Then, head on to the "sharing buttons" option. Next, choose the social media pages you would like your audience to use. You do this by adding the sharing buttons.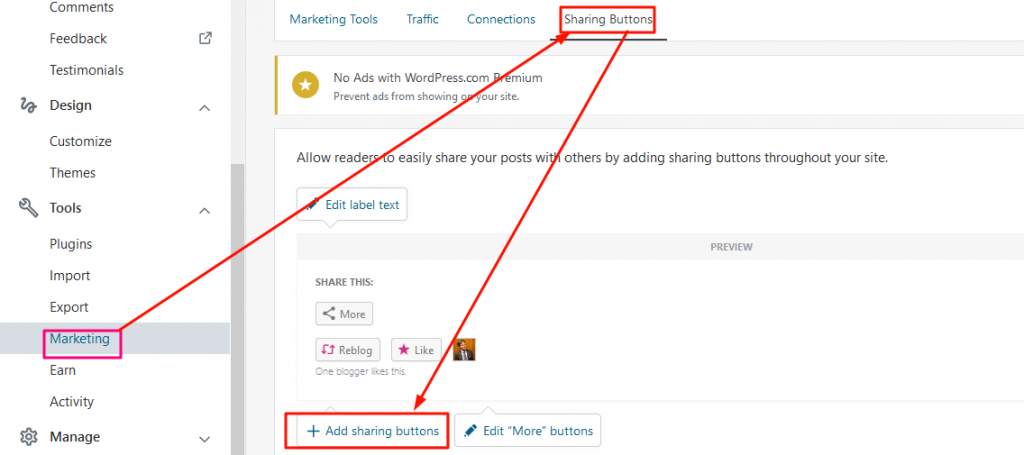 Also, you can customize the appearance of the sharing buttons.  Remember to save the changes when you're done.
Great, your audience can now share your post(s) with their peers.
But this is a new site; thus, there are no posts, right?
It is time to create an awesome post so that you can share with your waiting audience.
How do you do this?
Here…
Adding Posts on Your WordPress Site
Accordingly, when you create a free WordPress website, you need to add posts on it. Note, you will be creating new posts regularly. So, understanding this concept of publishing the content is crucial.
To create a post; go to the menu. Once again, click on the "Site" option.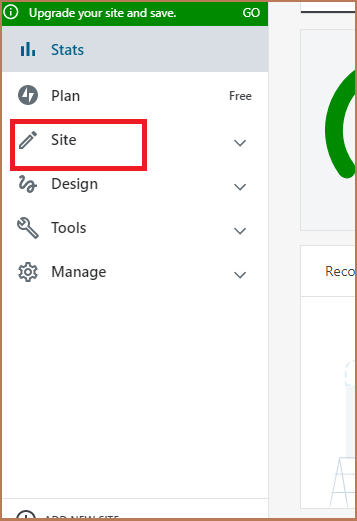 Below the "site" option, click on the "posts" icon (just below the "pages" option).
Once you click it, an "add a new post" option will appear on your right hand-side. Click on it.

Now, remember the main purpose of creating this post is to ensure that your readers sees your proficiency and hire you, right?
With that aim; you need to ensure that after creating an awesome article; you do optimum customization.
Also, ensure that you add links with high domain authority as well as high quality images.
How?
Here's a step-by-step Guide on how to publish as well as optimize your post(s) so that it looks professional.
Wrapping Up
As you can see, it is easy to create a free WordPress website. With this guide, you can do it all by yourself within a short time. On the other hand, you can see that there is no coding or extra skills needed to create your free blog.
You, therefore, have no reasons for not owning a free WordPress blog.
Apart from this, your free WordPress site is a stepping stone to owning a self-hosted website. When your budget allows you to cater for hosting cost, you can comfortably move your site to WordPress.org.
The good thing is that you will not lose your traffic or following. Hence, you won't build your site from scratch again.
Would you like any assistance in creating a free or self hosted blog? Feel free to contact me so that we discuss further.